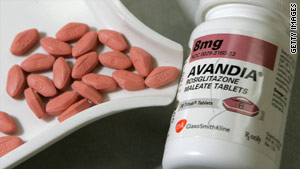 Why isn't this the news story being exposed in a greater fashion? Without getting into the ins and outs of type 2 diabetes being reversible through diet, exercise, and lifestyle, the punishment for the folks at GlaxoSmithKline should be swift and severe. You shouldn't have to be a chiropractor to find this completely outrageous.
There is no better time to become reliant on a healthy nervous system, diet, and exercise and take the control away from companies that are in full time damage control.
According to a CNN report on a US Senate committee's findings:
"The diabetes drug Avandia is linked with tens of thousands of heart attacks, and drugmaker GlaxoSmithKline knew of the risks for years but worked to keep them from the public…"
• FDA scientists estimated in July 2007 that Avandia was associated with approximately 83,000 heart attacks since the drug came to market.
83,000 extra heart attacks in three years?!?!?! I always wonder how large the REAL number is if they are willing to admit to 83,000.
"Had GSK considered Avandia's potential increased cardiovascular risk more seriously when the issue was first raised in 1999 … some of these heart attacks may have been avoided," the report states.
They knew about increased chance of heart problems in 1999?
• GlaxoSmithKline undertook attempts to undermine information critical of Avandia.
"GSK executives attempted to intimidate independent physicians, focused on strategies to minimize or misrepresent findings that Avandia may increase cardiovascular risk and sought ways to downplay findings that a competing drug might reduce cardiovascular risk," the report says.
I will let the studies findings speak for themselves and sum up GlaxoSmithKline's response: They disagree with the findings.
What I am having the hardest time digesting is the fact that pharamceutical companies are getting caught red handed with continued malfeasance but more fingers are pointed at chiropractic now more than ever. Canada, Britain, and the U.S. medical and pharmaceutical groups continue to attack the chiropractic profession, and individual chiropractors, while they continue to educate people on a drug free lifestyle, and the importance of a subluxation free nervous system.
When do we stop the insanity?